Outlook Express to Outlook: Making the Switch
Before you make the switch from Outlook Express to Outlook, you need to decide which client best suits your needs. To help you choose, follow these basic general rules of thumb.
Outlook Express to Outlook – why and where?
Stick to Outlook Express if you only need email and newsgroup functionality. You should also stay with Outlook Express if you plan to use Office 98 for Mac as well as gain the integration of Outlook Express with this version of Office suite. If you need advanced email and discussion group features then make the switch to Outlook. Outlook also offers integrated personal calendars, group scheduling, task and contact management. You should also make the switch for if you'll be using the cross-platform clients for  Windows 95 or later, Windows 95 or earlier and Mac platforms. If you plan to use or are using Office 97, Office 2000, Office XP or Exchange Server, then you'll want to gain the use of the integration that Outlook offers with this version of the Office suite or with Exchange Server. Outlook is also more suitable for more robust, integrated run-time and design-time collaboration requirements.
That said, converting from Outlook Express to Outlook is quite simple. It's just a matter importing your account setting, and, importing your mail and address book. Both can be done with the simple click of the Import button and following through the prompts that come after.
How to import your emails from Outlook Express to Outlook?
Making the switch is not always smooth sailing though. Some of us may be more familiar than others with the issues that the Microsoft platform can give. Fret not if you're one of them. Follow the alternate guide on how to import your emails from Outlook Express to Outlook. This method looks into how to extract your emails from DBX to EML in Outlook Express, a format used by Outlook, and then importing them into Outlook.
Extract DBX to EML files
Firstly, you will need a program called DBX extractor. Click here to download the free DBX extractor tool. This program will extract Outlook Express emails in a matter of minutes. You'll also be able to recover all your email addresses with this easy-to-use application.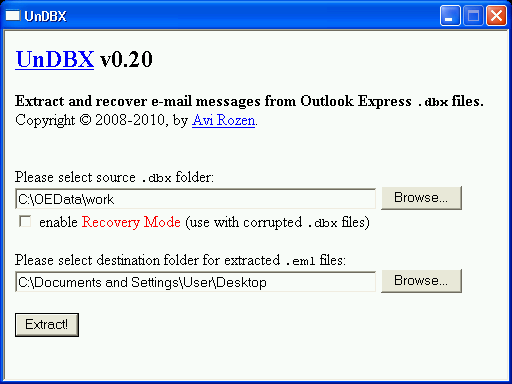 Using DBX extractor is simple. After having downloaded the program file, run the UNDBX.EXE file. This will open the program immediately. Next, choose the source of .DBX folder if it is not already the right one. Then change the destination folder to where you'd like the .EML files to be saved. Enable the "Recovery Mode" so that it will also extract and recover any corrupted .DBX files. Select "Extract" and we're on the roll! Once the program is finished doing its job we can move on to the next step.
In the last step, DBX extractor had extracted and converted your .DBX files to .EML files. The next step is to transfer these .EML files to your Outlook User Profile. A program called Outlook Import Converter will do this job for you. Click here to download Outlook Import Converter.
After you've downloaded the converter program, run it and select "Next" when given a prompt. Choose the source folder where you had your .EML files saved earlier. Hit "Next" button again to start the scan for the folders structure. When the scan is complete, a list of all the emails it found in your source folder will be displayed. All you need to do now is hit "Start" and the Outlook Express to Outlook converter program will transfer them all to your Outlook User Profile. Easy!
Find Alternative Software to convert Outlook Express to Outlook
 There are always ways around things and free programs give you an alternate route to making the prepare to switch from Outlook Express to Outlook easily and quickly when the first recommended method fails you.
As alternative you may use the tool called Outlook Express to Outlook Converter from http://www.outlookexpresstooutlook.com site. The tool allows to import Outlook Express EML files to Outlook user profile or inside .PST file in several steps.